Willis Marine Center, Inc.
17 Mill Dam Road
Huntington, Long Island, New York, US, 11743
Tel:(631) 421-3400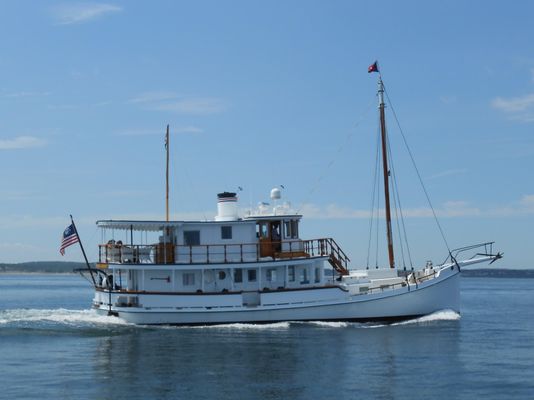 1928 Custom COASTAL QUEEN Oyster Buy Boat
Stuart, Florida
Builder/Manufacturer
A.G. Price
COASTAL QUEEN was built in 1928 in Maryland by boat builder A.G. Price. She was originally named "A.G. Price" after the builder.

She was used as an oyster buy boat until 1958 when she was purchased by boat builder Slade Dale, who converted her into a double-deck yacht and changed her name to "Coastal Queen." The vessel received national acclaim in 1965 when the book "The Inside Passage" by Anthony Bailey was published. "The Inside Passage" was about a trip down the inland waterways aboard "Coastal Queen."
For the last 24 years, she has been owned by a very accomplished racing sailor and used primarily as a tender to his racing program as well as for family & corporate functions. She has had unbelievable care that has been overseen by her owner and her captain who has been aboard since 1985. There has been no expense spared to constantly update and improve "THE QUEEN." Her list of improvements during her current owner's stewardship is impressive and the quality of the work is second to none.
In the summer months, COASTAL QUEEN, can be seen in and around Jamestown & Newport, hosting parties at Block Island Race Week & on Long Island Sound and has been a fixture on the New York Yacht Club Cruise. In the winter, she has been a common site at Key West Race Week, Miami Race Week and the SORC. In between, she has been making her way North and South in "The Ditch" turning heads wherever she goes.
COASTAL QUEEN is most definitely one of a kind and she has improved with age. THE QUEEN is in search of her next custodian to carry her into the future. Please call us today to learn more about this unique opportunity.
$200,000 Price Reduction! Now asking $350,000.
Specifications
Total Engine Power
285 hp
Water Tank Cap.
2,000 gal
Holding Tank Cap.
280 gal
Holding Tank Mat.
Plastic
Engine 1 Specifications
Propeller Type:
5 Blade, Bronze
Accommodations and Layout
The COASTAL QUEEN offers a layout that is conducive to cruising with a family, as well as offering plenty of room for guest and friends. She is ideal for acting as a tender to a racing program and hosting a large party - all in classic style and comfort.
MAIN SALON:
The main salon is located at the forward end of the cabin house on the main deck level. With entry doors equipped with screen doors both port and starboard, she is accessible from both sides of the boat along with an entry from the galley. Her salon features a dinette that seats four (and can be extended to seat 6) in the aft starboard section of the salon. The forward seating in the salon faces aft and is a long u shape that spans the width of the salon. It can easily seat 10-12 people. The salon is air conditioned and is equipped with a flat screen TV on a swivel mount with satellite television. The forward window in the salon open and with the doors port and starboard create excellent ventilation in the salon.
GALLEY:
The galley runs athwart ships aft of the main salon. There are entry doors from the main deck both port and starboard with screen doors creating excellent cross ventilation for the galley. There is also a stairway/ladder from the port side of the galley up to the pilothouse. The galley is equipped with a full size SS refrigerator/freezer, a stand alone ice maker, 6 burner Wolf propane stove with Pro GE combination oven/convection oven, full size sink, microwave oven, Miele dishwasher, excellent counter space and plenty of storage for dishes, glassware and galley ware. Her current chef routinely feeds 15 - 20 people for dinner and hosts parties for 50+ people.
PILOTHOUSE:
The pilothouse is command central on The Queen. It houses the helm controls, electronics and navigation systems as well as the sound system. The pilothouse is accessible from the stairway/ladder from the galley or by the port and starboard doors outboard of the helm. The forward windows and the height of the pilothouse offer excellent site lines while under way. At the aft end of the pilothouse is a bench seat and an athwart ships upper additional berth if needed.
MASTER CABIN:
The owner's cabin is on the upper deck aft of the pilothouse. It features a large queen sized berth, built in desk/dresser area and a head with separate stall shower. The master cabin is air conditioned, has a flat screen TV and has access directly to the upper aft deck/bar area known as "The Fantail."
THE FANTAIL:
This is the covered area of the upper deck at the stern of the vessel. It is equipped with wicker furniture, a bar area, freezer & wine refrigerator. This is an ever popular spot on The Queen to watch the world go by and listen to the whirl of the Jimmy Buffet blender sports that have become legendary on THE QUEEN.
AFT CABIN:
Known as "The Newport Suite," the aft cabin is fully air conditioned and is accessed from a door on the main aft deck. It features two large berths with a built in desk, drawers, hanging locker, full head and separate shower.
FORWARD CABIN:
The forward cabin is accessed from the port side of the fore deck just forward of the cabin house. There is a companionway/ladder that leads below to three single berths. Additionally, the Captain and Crew quarters are accessed through this forward cabin.
Hull, Deck and Interior Construction
HULL CONSTRUCTION
The hull is constructed as a carvel hull, with cross-planked bottom, hard chine, plumb stem and elliptical stern. It is constructed of Southern Yellow Pine side frames, where the side planks run fore and aft and the bottom planking is applied transversely. The stem, inner stem and keelson are Yellow Pine, and the transverse strongbacks, and chine logs are also Southern Yellow Pine. The cross planked bottom is fastened with stainless steel ring nails. The chine logs and transverse strongbacks are fastened with stainless steel carriage bolts.
Side Frames - 4 " x 5 " White Oak spaced at 24" intervals
Bottom Planks - 2 ½ "x 9 " Fir
Plank fastenings - Stainless steel ring nails
Stringers - 3 ½ " x 4 " White Oak
Chine Log - 2" x 10" White Oak
Chine to frame fastenings - Stainless steel carriage bolts
Transom - 4" x 8" White Oak, secured with stainless steel drift pins
Bulkheads - 1 ½" composite wood fastened to the side frames (semi structural, non watertight)
Keel - Twin 5" x 6" White Oak
Keelson - 12" x 16" White Oak
Sheer Clamp - 2" x 8" White Oak
DECK CONFIGURATION
The main deck of the vessel is provided with wooden bulwarks around the perimeter; with one dog house at the foredeck which provides access to the forward cabin and crew's quarters. The side decks are protected from the weather by an overhang of the upper deck with is supported by 4" x 4" wooden newel posts. The upper deck is accessed by stairs from the forward deck and interior companionway stairs to the pilothouse. The periphery of the upper deck is fitted with mahogany stanchions and varnished mahogany top rail with a mid silicon bronze rail.
The engine room is accessed by way of a mish-ships door located on the port side of the main cabin house.
A varnished long leaf Southern Yellow Pine mast is located forward of the foredeck dog house which carries the anchor, steaming lights and foredeck lights. It is equipped with several halyards and can fly a multitude of flags, burgees, etc.
Main Deck - Composite of painted fiberglass over 3/4" plywood and 2 1/4" x 2 1/4" original deck planks
Upper Deck - Composite of painted fiberglass over 1 ½" plywood
Beams: Main - 4" x 6" White Oak on 24" centers
Upper Deck Beams - 2 ½" x 5" White Oak on 24" centers
Bulwarks - ¾" painted wood with a varnished mahogany cap, 24" above the deck.
Coach Roofs - Painted Fiberglas and marine plywood
BOW SPRIT, MAST AND STANDING RIGGING
Mast & Hardware - New 2015. The vessel is fitted with one varnished Yellow Southern Pine main mast, stepped to the keel.
Rigging:
½" galvanized steel cable
Turnbuckles - Lignum Vitea deadeyes with polypropylene lanyard legs
Chainplates - 3/8" x 2 ½ " stainless steel plate bolted to the hull
Bow Sprit - 10" x 11" varnished spruce with 1 ¼" teak top chaffing board
PILOTHOUSE AND CABIN
The Pilothouse is located forward on the centerline of the Upper Deck and is accessed by port and starboard weather tight doors and stairs from the galley. The exterior of the pilot house is covered with painted grooved wooden panels. The interior is finished with varnished mahogany paneling with a painted wooden overhead.
The interior contains the vessel's navigation control stations with the helm located on the centerline, and is provided with the main engine controls, gauges and alarm panels. It is outfitted with tempered safety glass windows around the perimeter for good visibility in all directions.
The owner's air conditioned stateroom is situated aft of the pilothouse, with a head, shower and a large covered seating area - "The Fantail" - over the aft deck.
CABIN
The cabin space is configured with the galley situated mid cabin, with access provided by port and starboard doors and companionway stairs for access to the pilothouse. The air conditioned main salon is located forward of the galley, also accessed by doors port and starboard, with a forward settee and dinette located against the aft bulkhead. A two person suite, shower, head and built in desk are accessed through a door from the covered aft deck. The engine room and mechanical areas are accessed through a door and stairway from the port side of the cabin house. The additional guest quarters and the crew's quarters are accessed from the companionway on the port side of the dog house forward.
The interior joinerwork is comprised of painted woodwork with varnished mahogany trim.
Salon Sides - Painted woodwork, with numerous cupboards and cabinets provided throughout.
Overhead - Painted wooden overhead
Beams - Painted 2 ½" x 5" @ 24" intervals
Cabin Sides - Wallpaper and painted woodwork with mahogany trim and numerous cupboards and cabinets.
Hatches - The foredeck is provided with a booby hatch for access to the crew's quarters.
Port Lights - Bronze framed using tempered safety glass lenses
CO monitor and Smoke Detectors - Kidde combination located in galley. Kidde smoke detectors are provided in all living quarters.
Engine, Generator and Steering
The COASTAL QUEEN is powered by a Detroit Diesel 671 naturally aspirated engine:
ENGINE
1996 Detroit Diesel 671 285 hp - 13,900 hours
(2) 530 gallon fuel tanks - 1060 gallon total capacity
Keel cooled
Reverse Gear - Twin Disc MG-509 2.95:1
5 Blade Bronze propeller - 36 x 23 RH
3" Stainless Steel Shaft
New Head on engine at approx. 9,000 hours
New Main Bearing 2017
Engine Bed - 3" x 12" Oak stringers bolted to 3" x 7" strongbacks
Engine mounts - Steel vibration mounts bolted to the stringers
Fuel Filter - Racor 1000MA Primary, secondary on the engine
Exhaust - Dry Stack (Engine and Generator) Stainless Steel and Cast Iron
New Park fuel transfer & fuel polishing system
GENERATOR
2012 Northern Lights 30kw Generator - 6645 hours
2018 Generator overall
Generator Fuel Filter - Racor 500FG
Fuel consumption - 10 gallons per hour with engine at 1850 RPM and Generator running under load
1000 + mile range at cruising speed
STEERING SYSTEM
Primary - Chain and sprocket and ¼" stainless steel cable configured to run through bronze sheaves to the main quadrant.
Rudder Stock - Main - 1" steel; Outboard - 1" steel
Rudder Stops - ¾" chain shackled to an eye bolted through the hull.
Electronics and Navigation
Compass - Danforth White
VHF Radios - Standard Horizon Standard Spectrum and Garmin VHF 200
Depthfinder - Raymarine ST60 and Raymarine L760
GPS - Garmin GPS Map 5212 and Furuno GP 7000
AIS - Garmin AIS 600 transponder/receiver
EPIRB - ACR 406 mHz
Radar - Furuno, 48 mile
Auto Pilot - Raymarine C760
Chronometer - Boston
Bell
Horn - Twin horns powered by a Roll Air compressor located in engine room
Running Lights
Spotligt
Electrical Systems
DC SYSTEM
BATTERIES:
Three Intimidator 8D Absorbed Glass Mat (AGM) Deep Cycle 12 volt, configured in parallel as one bank of 12 volts for house batteries; New 2017
Four DC 8 volt, deep cycle, lead/acid, configured in series as one bank of 32 volts for propulsion engine starting; New 8 volt Rolls batteries 2016
One Deka Marine Master Group 27, lead/acid dedicated as a generator starting battery; New 2016
BATTERY CHARGER/INVERTER
32 volt system - Charles Charger 9000 series, 30amp, model 32-C53230A; House bank - Xantrex MS 2000, inverter/charger
AC SYSTEM
Two 50 amp 125/220 volt

Two Charles Industries, PM3, 12 kVA Power Isolation Transformers
Galley
Wolf 6 burner cook top, with stainless exhaust
Fuel LPG Propane - 3 aluminum 20 lbs. tank system
Fuel Lines - Hose and copper tubing
Fuel Storage - Wooden enclosure on pilothouse roof
Full size oven
Full size sink
Ice Boxes
Fisher & Paykel 2 door, Model E522B, refrigerator / freezer in galley
2 Denby refrigerators forward companionway
Kelvinator and Kenmore chest freezers in engine room
Additional Equipment
Miele Diswasher
GE microwave
Proper cutlery, glassware, china storage
Plumbing and Domestic Equipment
BILGE PUMPS:
(2) Rule 1800 120 volt – Engine compartment
(3) Rule 2000 - Engine compartment
Rule 3700 - Engine compartment
13,300 GPH Total of all bilge pumps
(2) High water alarms - either side of keelson
HEADS:
(4) Kohler domestic low flush type toilets
(8) 35 gallon polyproylene holding tanks
FRESH WATER:
(2) 1000 gallon fresh water tanks - 2,000 gallon total capacity
(2) fresh water pumps (AC & DC)
GE 50 gallon water heater
(4) showers
Miele washing machine & Frigidaire dryer in engine room
AIR CONDITIONING:
(4) Cruise Air Reverse Cycle air conditioners/heat pumps systems
(1) 16,000 BTU - Pilothouse
(1) 7,500 BTU - Newport Suite
(1) 10,000 BTU - Owner's Stateroom
(2) 8,000 BTU - Main Salon
Fire and Safety Equipment
(6) Type II fire extinguishers located in wheel house, electrical companionway (2), Engine room, forward state room, galley (2)

PFD - 57 adult Type II lifejackets

Ring Buoys - Three 20" life rings

Viking 6 person inflatable Liferaft, Model 6UKCL

First Aid Kit

Flares - expire June 2020

Search Light - (2), Rayline and Perko

Radar Reflector and

AIS - Garmin AIS 600 transponder/receiver

EPIRB - ACR 406 mHz
Ground Tackle and Docking
190 lb Danforth on bow sprit - 10' of ¾" chain shackled to 300' of 1 1/8" three strand nylon anchor rode
190 lb Danforth with chain & rode
The two anchors stored on Bow sprit and on deck
3rd 150 Danforth is stored in the engine room
Anchor Windless - Simpson Lawrence Francis Marine Type 2000
Docklines of all varieties and oversized fenders
Tender towing gear
Broker's Comments
The COASTAL QUEEN is most certainly one of a kind and she has been maintained to a level rarely seen on a vessel of this age. Her current owner has spared no expense and her captain has been on board since 1985 ensuring only the finest maintenance, upgrades and care. The attention to detail aboard THE QUEEN - whether it be her gleaming bright-work, her spotless engine room, the interior furnishings or the stock in the bar - is second to none! She is aging gracefully and with the care she has received, she only gets better with time.
Being fortunate enough to spend significant time aboard the COASTAL QUEEN over the past 20 years and now having the honor of listing her for sale, I am happy to answer any questions regarding this outstanding vessel.
-David Willis
Willis Marine Center
Disclaimer
The Company offers the details of this vessel in good faith but cannot guarantee or warrant the accuracy of this information nor warrant the condition of the vessel. A buyer should instruct his agents, or his surveyors, to investigate such details as the buyer desires validated. This vessel is offered subject to prior sale, price change, or withdrawal without notice.
Additional Contact Information
Please Contact:
David Willis, CPYB 631-421-3400 office | 516-885-9481 mobile | david@willismarine.com